Service Includes:
We All Know That If We Don't Have Focus On Our Competitor, We Will Not Be Able To Catch Them And Grow Our Business. Some Must-Have Logistics, Trucking, Freight, Cargo, Dispatch, Travel website Features Can Be:
1. Attractive Design
2. Cost Calculator
3. Quotes
4. Distance Calculation
5. Contact Form
6. Blog Page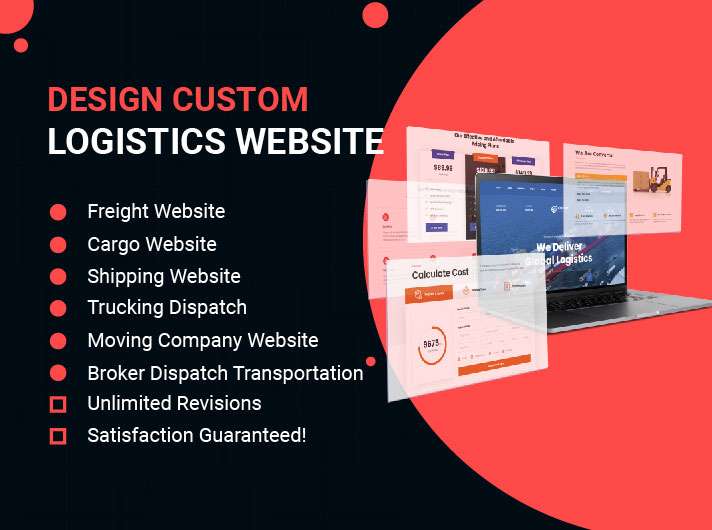 Key Features:
1. Easily Editable User-Friendly Admin Panel
2. Premium Theme And Plugin
3.100% Responsive Design For Desktop, Tablet & Mobile devices
4. SEO Ready
5. Free Mockup
6. 90 Days Of Free Website Maintenance And Support
7. 24/7 Support
8. My Design Will Let You Catch More Traffic, Business Leads, And Draw In More Potential Clients.
Live Sites:
https://test.lllogistics.in/
https://logistics1.nahidweb.me/
https://logistics2.nahidweb.me/
https://sednawanger.com/
https://giglogistics.com/
https://bowagateglobal.com/
https://redoxcorp.com/
http://www.lxglobal.com/
http://www.lorikulogistics.com/
https://fglobalshipping.com/
Hire Me: https://www.fiverr.com/share/PxoDrg
I Am Looking Forward To Hearing Your "Hi" And I Will Reply Within a Maximum of 5 Minutes 🙂
#dispatchWebsite #logisticsWebsite #cargoWebsite #transportWebsite #shippingWebsite